An Evening At Browns Bar And Brasserie
The Graped Crusader is back with the latest installment of his blog. This time he's been sampling wines from the wine list at Browns Bar and Brasserie. I popped into Browns Bar and Brasserie earlier in the week to have a look around and, more importantly, to sample a few of their wines. For those of you not familiar with Browns, they are the high end food offering from Mitchells & Butlers. Their ethos seems to be on doing simple foods very well and from what I saw on my visit, they're certainly achieving it.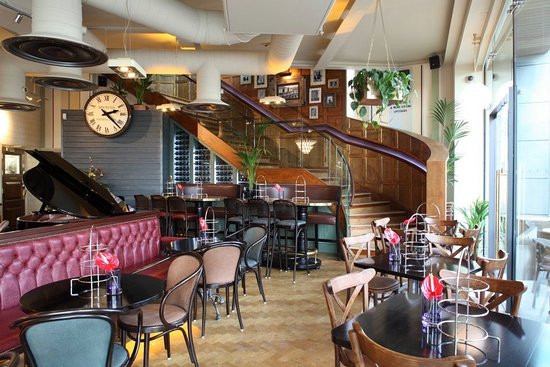 I wasn't of course there to comment on the food, that's not my job but it would have been rude not to have tried some of this too whilst I was there! I spent about an hour and a half with Neil McMahon, a former Sommelier and manager of Browns Bar and Brasserie Birmingham. Neil's interest in wine is immediately apparent and he spoke with passion about the wines on their list. At present the wine list is quite long but Neil explained that this is being downsized over the coming months.
We started by tasting the Perla Bianca Prosecco which sells in Browns for £20 per bottle. This is a very good aperitif wine with distinct apple notes. It's a fun wine which Neil explained is very popular, particularly with groups of women. I found it clean and crisp and at this price you can't really go wrong.
Next up was the Daniel Olivier Sauvignon Blanc / Semillon 2010 from Montravel in Bergerac. This is sold in 50cl bottles for just £12.95. This is a good example of the classic white Bordeaux blend which would sit very well with a fish course. If you fancy a glass of white with a fishy starter then sharing a bottle of this with your dining companion would be a very good idea indeed!
Moving on we then sampled the Mount Cook Lilly Marlborough Sauvignon Blanc 2011 which sells in Browns for £19.95. This is not at all a typical Marlborough Sauvignon Blanc. The usual bracing acidity is missing which I think is a good thing with food. It's full of green pepper notes and tropical hints. This drinks well and it'd be a very good food wine.
The final white was the Yering Station "Little Yering" Chardonnay 2009 from the Yarra Valley in Australia. This is aged in oak and the lovely buttery notes of the oak are very well integrated into the wine. There's a long finish here too.  At only £19.95 this again felt like a lot of wine for the money.
I was by this time rather keen to move on to the reds. Mainly because at this point I was enjoying a fantastic wild boar and chorizo burger, but also because I'd spotted some of the beauties that Neil had lined up…..
We began the reds with the Rothschild Los Vascos Cabernet Sauvignon 2010 from the Colchagua Valley in Chile. This is one of the esteemed Rothschild family's side projects around the globe. It sells for £22.95 and it tastes very classic indeed. The first words out of my mouth were "very French!" and that's the best way really to describe this. This is undoubtedly a food wine and a very good one at that which will continue to open out as the meal progresses.
Next up was the Casa Juanita Malbec 2010 from Mendoza in Argentina. Malbec can on occasion be a quite brutish wine which can simply overrun wimpy foods. This effort is very fruity and is super smooth but crucially it's also easy drinking and utterly classy. At only £17.95 for a bottle this is a bit of a steal. If you're eating red meat you should definitely order a bottle of this.
Another good food wine was up next in the shape of the Finca Venta de Don Quijote 2007from Spain, a blend of Tempranillo (the Rioja grape), Syrah and Cabernet Sauvignon. I'd urge you not to be afraid of blends. They're not second rate wines at all and in the hands of a skilled winemaker can be a potent weapon indeed with the winemaker able to craft the proportions of each grape to maximum effect. At £20.95 this is really good value. It's a complex wine with layer upon layer of taste (as you'd expect from a blend). There are lots of cherry and raspberry fruits on show and the oak is well integrated.
Things then became even more fun as Neil produced a bottle of the Enzo Vincenza Amarone 2007. For those of you not familiar with Amarone it's the premium wine from the Valpolicella  region of Italy. The grapes are allowed to dry, usually on straw mats, having been picked which concentrates the flavours. Unfortunately as a result it's a labour intensive way of making a wine and the prices are therefore elevated, also due to the amount of juice from each grape reducing as it dries out. This is £39.00 but if you're treating yourself it will not disappoint! The flavours are so concentrated, packed full of raisin and plum notes. It's 15% in strength but there's no alcohol burn whatsoever. This is well balanced, soft, velvety and awesome. I loved it.
We finished off with the priciest wine of the night. The Domaine Rothschild-Lafite Pauillac 2009 from Bordeaux in France. At £59.00 this blend of Cabernet Sauvignon and Merlot is unlikely to be a Tuesday evening wine but you are tasting a very fine Bordeaux from one of the most esteemed families in the wine business. This was not as austere as I expected. Bordeaux wines, particularly when young, tend to need time to "breathe" before drinking but this seemed almost ready to go. It would benefit from food of course which is fine, because the idea is you'd be ordering this in Browns! It's a classy wine indeed, so if you're looking to impress and the budget allows it you'll be happy you chose this wine.